Services
Fuji Electric India has one of the largest Pan India service network represented by 350+ trained service engineers in 80+ location spread across the country. Fuji Electric India Service engineers are factory trained and are also provided with the latest tools for solving the problem during their first visit. Adequate spares are maintained locally to reduce the TAT (Turn Around Time) for resolving any field complaint.
Fuji Electric India operates a centralized call center for customer support. The call center operates from 9am to 9pm on all seven days of the week and logs all customer calls and issues in a centralized customer support management system to ensure the service engineer is deployed to the customer site as per the SLA (Service Level Agreement) with the customer.
FEI currently offers industry leading response and resolution time among service providers in the power backup and power conditioning industry across India in Metros, Urban, Semi-Urban and even rural areas.
Today FEI supports over one lakh installations across the length and breadth of the country. We maintain many mission critical installations including over 6000 of our products connected with medical equipment in Hospitals across India. We are the preferred service provider for power backup and power conditioning equipment in the Healthcare industry. Similarly, we ensure banking operations continue uninterrupted in several thousand branches across the country and our service team plays a critical role in keeping live over 10,000 ATM sites across India. Apart from this we maintain and service our products in a range of customer sites across many industry verticals including mission critical sites like ISRO's satellite launch facility.
FEI is the one of the most preferred vendor in India to support critical functions & Industries that required 24 x 7 support to ensure maximum uptime.
Service Support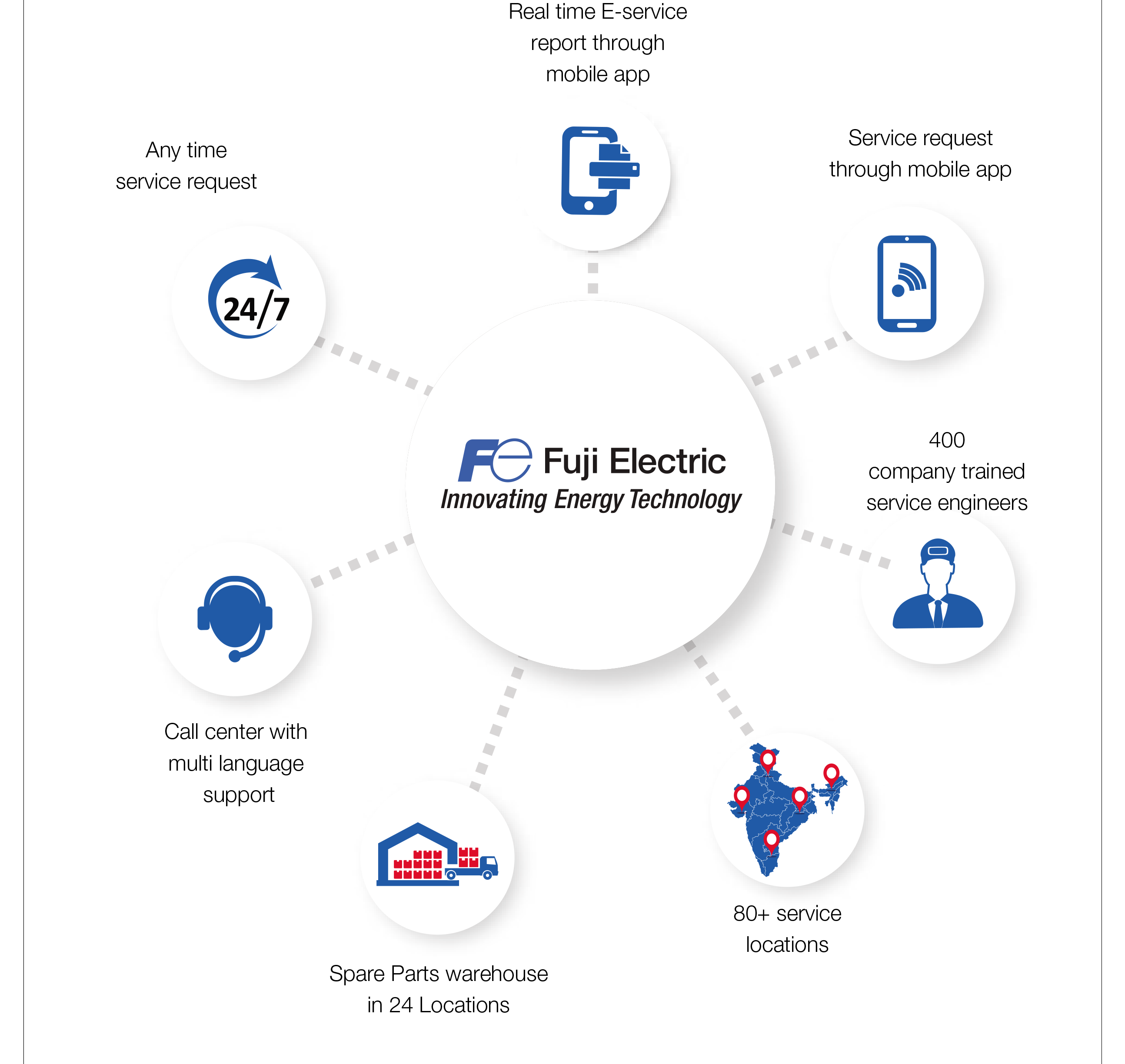 FEI has qualified and trained engineers to maintain and trouble shoot the third party manufactured products on a PAN India basis. Currently we are offering third party service for the below capacity UPS & SCVS.
1 - 10 KVA UPS.
10 - 200 KVA both air cooled & oil cooled Stabilizers.
It is ideally suitable for the organization that required single vendor maintenance support for their UPS/ Stabilizers in multiple locations across multiple locations Pan India.
FEI offers CAMC for all our products. This comprehensive Annual Maintenance Contract provides peace of mind to the customer as the service contract covers regular PMs (Preventive Maintenance) and unlimited breakdown calls during the contract period. Any replacement of spares is free of cost during the contract period and excludes batteries.
The Service life of a battery is limited and depends on many factors, including age, usage, environment and maintenance. IEEE standards recommend replacing a battery at the time its capacity drops below 80%. A typical UPS or Inverter battery may start to lose capacity or fail within 3-5 years. Proactively replacing batteries will help to keep the power backup system running up to specifications and minimize the risk of downtime to your business operations.
FEI offers a complete range of battery replacement services to handle all your needs. Every year we replace several thousand batteries. Our factory-trained battery specialists are experts in all aspects of battery service and replacement. Replacement and installation services cover both valve-regulated lead-acid (VRLA), also known as sealed maintenance-free (SMF) batteries and wet-cell (also called flooded) batteries.
FEI offers remote monitoring services for 3 phase UPSs to customer to monitor the operation and maintenance performance of the UPS on a 7x24 basis to ensure proactive steps can be taken to ensure the business continuity.
All Oil Cooled Stabilizers need replacement of the oil based on usage & ageing to improve the reliability of Servo Stabilizer and to get a longer life. FEI offers full range of services including oil testing, Oil recycling & Oil replacement.
FEI has 350 trained service engineers spread across India to do the power audits. We can analyze the site power quality and suggest suitable solutions to customer. Our power audits are conducted using a power analyzer and we study the power conditions at the site including:
Voltage / Current wave forms.
Transients.
Peak Currents.
Peak Voltages.
Harmonics Level in current ( THDi).
Harmonics Level in voltage (THDv)
Resonance type.
Power fluctuations etc......
FRI can covert your analog stabilizer to digital stabilizer at a low cost to provide maximum benefit, save money, improve reliability and power quality. Conversion can be done on site can be done within 2 hours on any brand of stabilizers. This conversion will give you digital stabilizer at just 1/10th of the price of a new digital stabilizer. It also ensures better reliability, longer life and better protection. Click here to know more.
FEI is offering UPS rental from 1KVA - 120KVA UPS & 15KVA to 45KVA Stabilizer.
This is ideally suitable for the organizations which need immediate UPS / Stabilizer during transition or breakdown of existing UPS / Stabilizer or cannot afford to invest in a new unit.
FEI also can offer only Labour AMC. The Annual Maintenance Contract covers regular PMs (Preventive Maintenance) and unlimited breakdown calls during the contract period. Any replacement of spares will be charged extra.
Automation Services