Fuji Electric "In India For India"
Fuji Electric has over three decades of experience serving the Indian market. Initially, we operated in India through Joint Ventures. In 2009, Fuji Electric India Pvt. Ltd., a 100 % Subsidiary of "Fuji Electric Group" was established. The acquisition of Consul Neowatt, the largest Indian UPS company in 2019 was central to Fuji Electric's growth plan in India.
Fuji Electric has been operating in India since 1985. initially, this was through joint ventures for the manufacture and sales of Instrumentation and UPS products. In 2009, Fuji Electric India Pvt. Ltd., a 100 % Subsidiary of "Fuji Electric Group" was established. Fuji Electric over the next decade expanded across India to establish leadership in Drives for Lift & Escalator segment and also became a leading Motion control solutions provider for packaging and special purpose machines. In 2019, with the acquisition of Consul Neowatt, the largest Indian UPS company, Fuji Electric India now has a nation wide presence with over 1,000 employees serving customers across all Industry verticals. Fuji Electric India has an aggressive growth plan to become the leading Energy and Automation solutions provider in India by launching new products and solutions supported by expanded sales reach and addition of manpower resources, R&D, and manufacturing capability in India.

1000 +Employees

400+ Service Engineers

80+ Service Locations

Multiple Manufacturing Facilities

18+ Sales Locations

2 R&D Centers

4M Installations

300+ 1MW Customers

100+ Channel Partners
Today, Fuji Electric India has a nation-wide presence with 1,000 employees serving customers across all Industry verticals. This gives us a solid foundation for growth and expansion in India. Our Fuji Electric 2.0 plan for India, provides the roadmap for achieving our Vision: To become the premier, preferred & leading Energy & Automation solutions provider.
Aligned with the global strategy of Fuji Electric for all major markets which is to develop local capabilities and manpower resources In Country - For Country, Fuji Electric 2.0 roadmap for India is focused on enhancing our India manufacturing, R&D and manpower capabilities In India - For India.
Currently we are expanding our factory operations in both Chennai and Pune by adding over 150,000 sq.ft. of additional manufacturing space for increasing the production of UPS, AC Drives and instrumentation products in India. We also have enhanced our R&D manpower and capabilities for UPS, Solar and Energy Storage Systems in Pune and AC Drives in Chennai. Also our key operations personnel are trained in our Japan Mother factories to implement the Fuji Electric Quality System and Fuji Electric Production System in India.
Fuji Electric India is today well positioned to offer comprehensive and industry leading solutions for a wide range of applications across Industry verticals. These World class solutions are backed up by our Pan India service network of factory trained engineers who are equipped to provide fast local response to ensure the uptime of our customers.
With Fuji Electric India, you get the best of Japanese technology with the most responsive local service network in the Industry.
Commitment to Excellence
Fuji Electric has a long-term view on its future in the country. Towards that end, we are investing to enhance our capacity, build expertise in India and cater to the Indian and global markets over time. We see both – the promise and the potential.
Read More
State of the Art Facilities
Fuji Electric has invested in advanced manufacturing facilities in India to meet global norms and standards. They symbolise our commitment to the country and are in line with the government's objectives of building for the future of the country.
Read More
Manufacturing Setup
The company has multiple modern manufacturing facilities located in Chennai and Pune with state of the art manufacturing process and testing equipment. The complete manufacturing process is managed on SAP and the Fuji Electric manufacturing facilities in Chennai and Pune are ISO 9001:2015, ISO 14001:2015, ISO 45001:2018 certified.
Japan acts as the mother base (plant) and India manufacturing capability is being developed to be a key part of the global production network in accordance with Fuji Electric policy of pursuing local design and local production for local consumption. Functioning as the mother base of Fuji Electric's production technology, the Facility Technology Center in Japan concentrates on production technology development (Advancing automation), equipment production (Focusing on equipment design and production), and technical and skills training (fostering production engineers, technicians, and global personnel).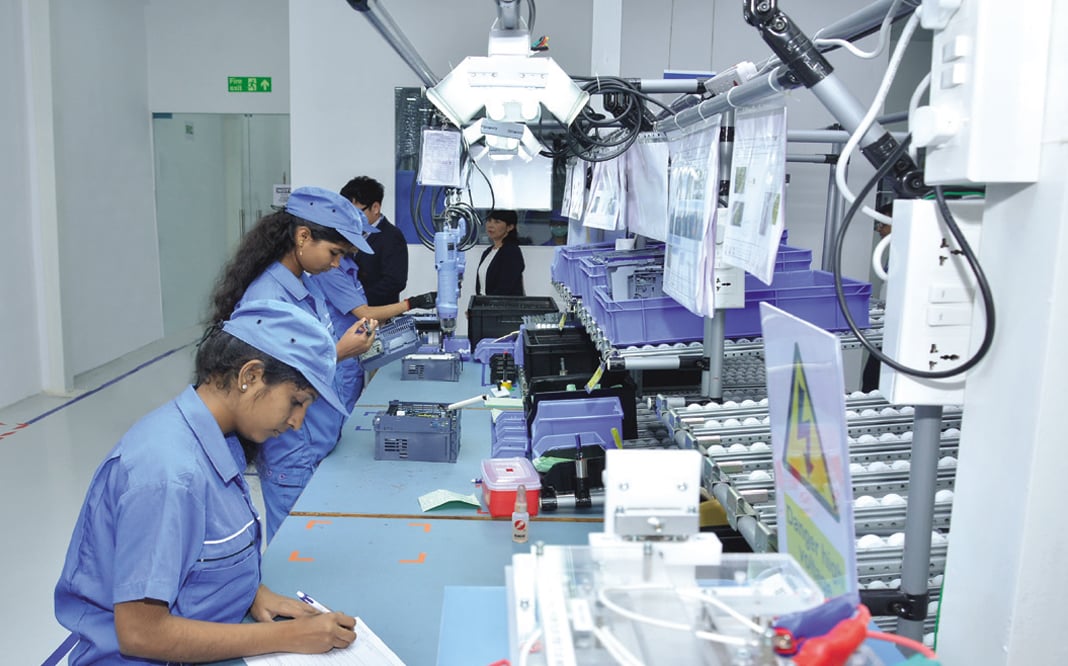 AC Drives Factory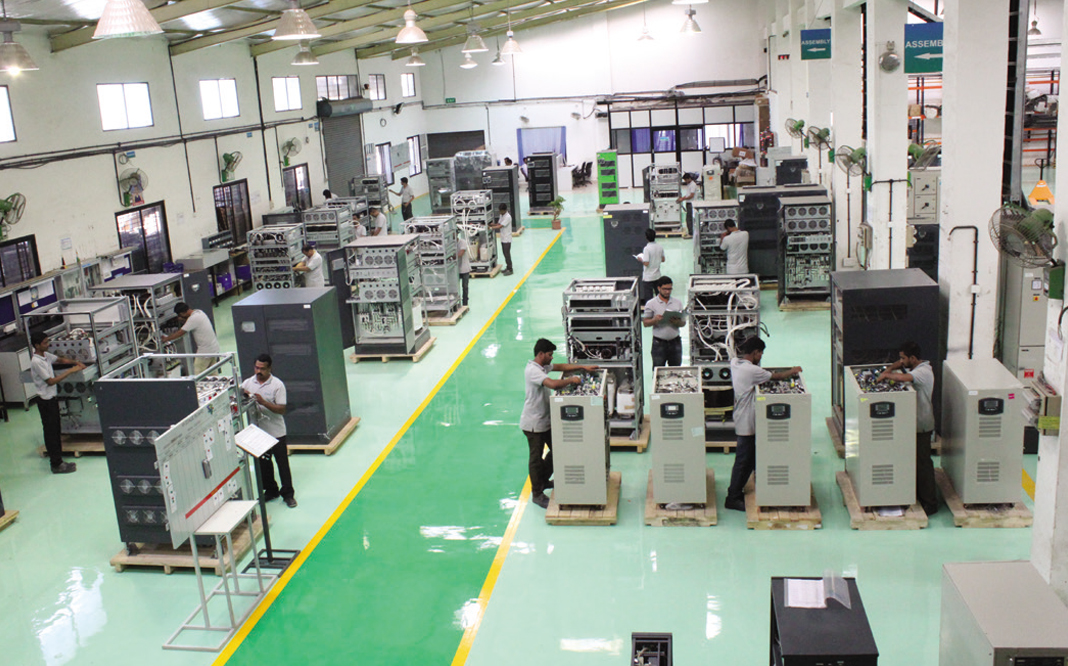 UPS Factory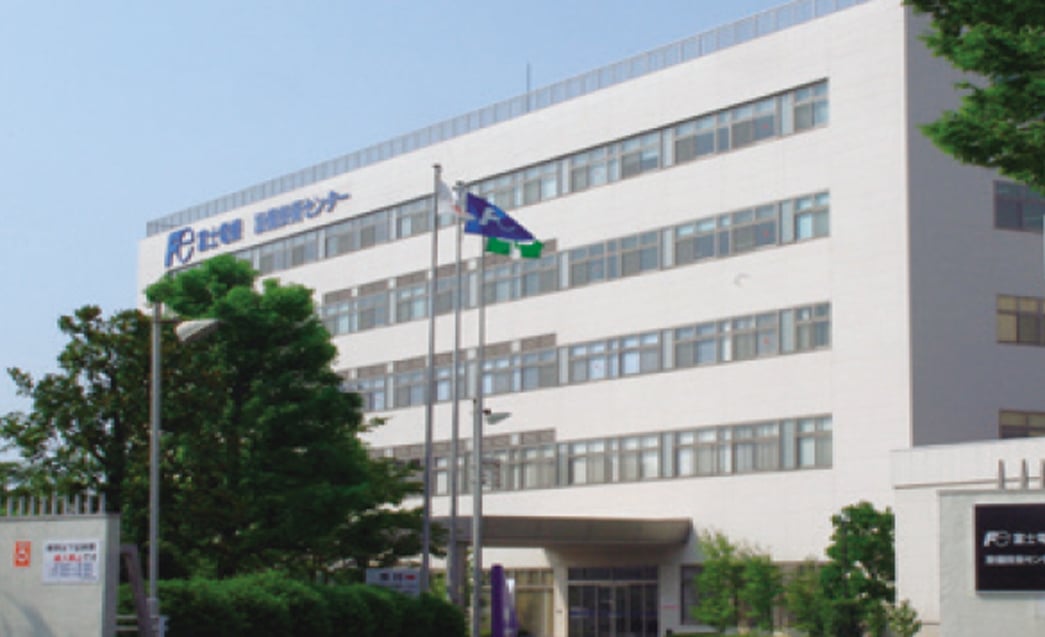 Facility Technology Center
Fuji Electric is strengthening its R&D capability in India to develop products "In India for India". The R&D center in Pune has over 30 engineers involved in the development of UPS, Solar Inverter, Active Harmonic Filters and other power electronic technologies. The Automation Division R&D center in Chennai is involved in developing embedded firmware for AC Drives for Indian environment and applications. The R&D center uses state of the art HILS (Hardware-in-the-loop simulators) to test complex embedded systems with real life conditions to reduce development time and to validate performance under all real site and power conditions. Experts from Japan are stationed in India for joint product development and to train Indian engineers.
Automation R&D center - Chennai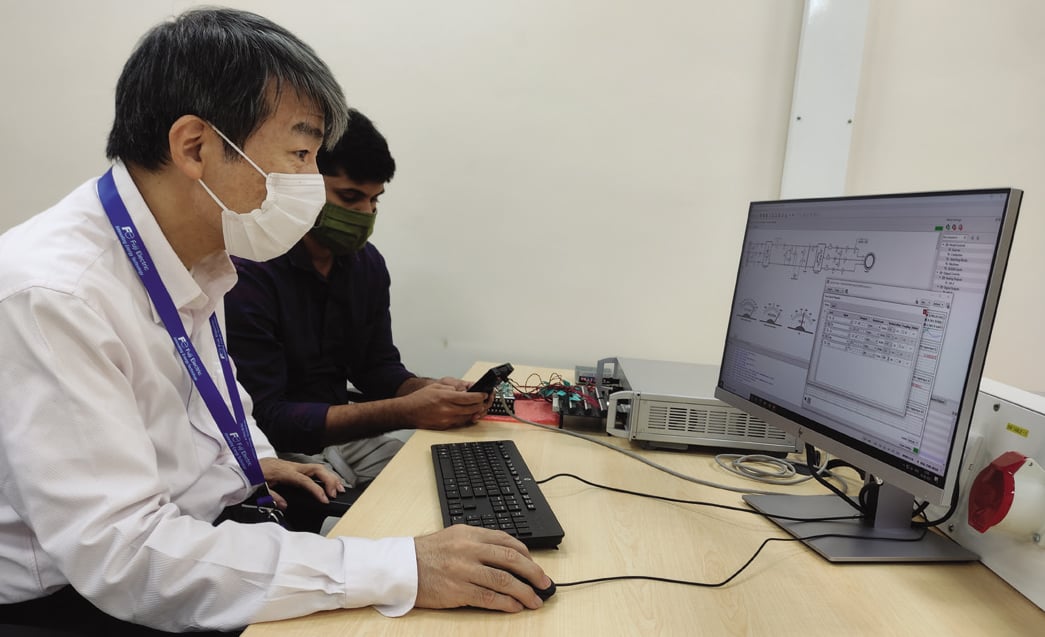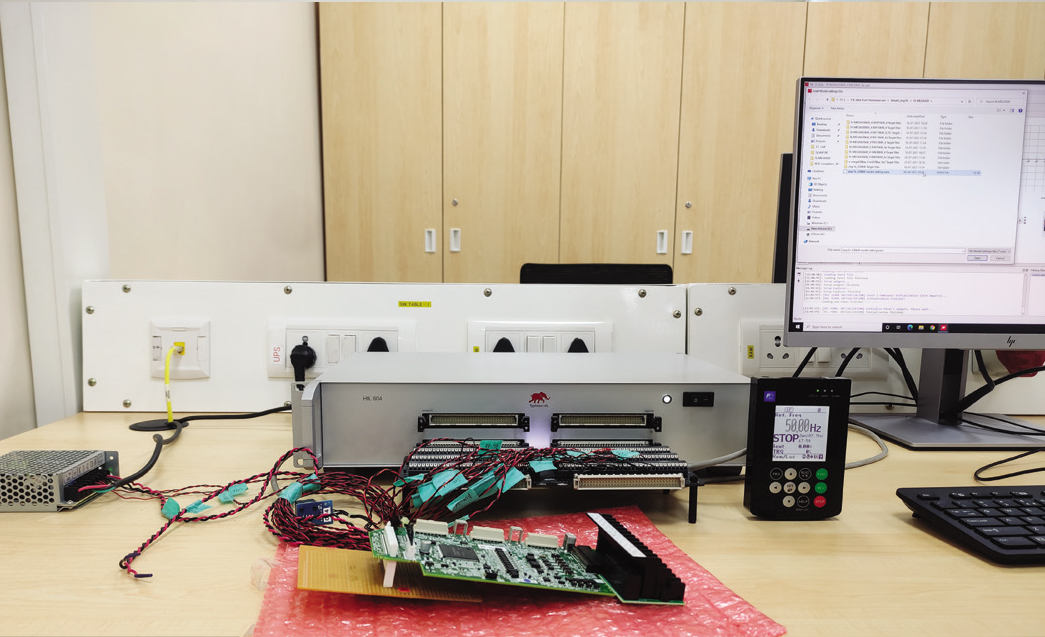 Energy R&D center - Pune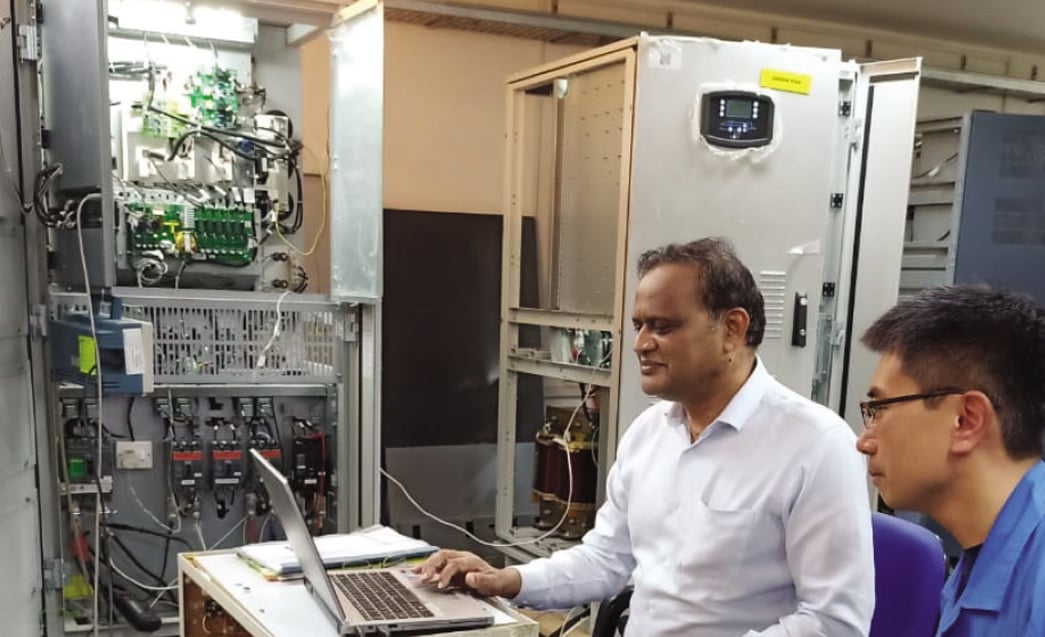 Instrumentation Lab - Chennai
Service
Fuji Electric India has one of the largest Pan India service network represented by 400+ trained service engineers in 80+ location spread across the country. Fuji Electric India Service engineers are factory trained and are also provided with the latest tools for solving the problem during their first visit. Adequate spares are maintained locally to reduce the TAT (Turn Around Time) for resolving any field complaint.
Energy Services
AMC for UPS, Stabilizer, Inverters and other power products
Comprehensive Annual Maintenance Contracts (CAMC)
Battery Replacement Services
Remote Monitoring
Stabilizer Oil Replacement
Power Audits
Stabilizer Retrofits
Rental UPS and Stabilizers
Annual Maintenance Contracts (Labour - AMC)
Automation Services
Repair and Retrofits
AMC Service & Lifecycle Extension
Start-up Service
Field Services
Training
Project Engineering & Commissioning
Asset Management
AC Drives
Gas Analyser systems
Energy saving audits
Drives Refurbishment