FRENIC4000 Series Small-to-medium capacity DC link inverters
Drive and Control
|
Medium Voltage Drives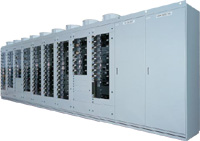 [view large image]
The Frenic 4000 series helps better load management. With this extensive capacity series available from 10 kVA to 600 kVA, the capacity can easily be selected to match the load. In addition, by multiplexing the inverters, up to 3600 kVA (600 kVA x 6 inverter units) can be supported. There is no need for separate cooling fans in each unit and one cooling fan for the control panel is enough. High-efficiency plant operations can be achieved by exchanging power energy and regenerative energy with the DC distribution system over a common DC bus. While the control unit is in operation or stopped it is possible to check various data and status conditions, which makes it extremely easy to review the system operating state including safeguard and abnormal conditions with traceback functions available as an option.
Find out more
Solutions
Energy and Utilities
In energy and utility segments, increasing efficiency and cutting down waste are some of the key challenges many ...
Water and Waste Water
Most of the energy consumption in Water and Waste Water Treatment Plant (WTP) is electric power consumption it is ...
ALL SOLUTIONS
---
Services
Fuji Electric offers a wide range of design and consultation services related to the development of solutions in all of the industry sectors we operate in. Each project requires specific inputs and deep expertise to create the best possible solutions
Read More