MICREX - VieW XX
Process Automation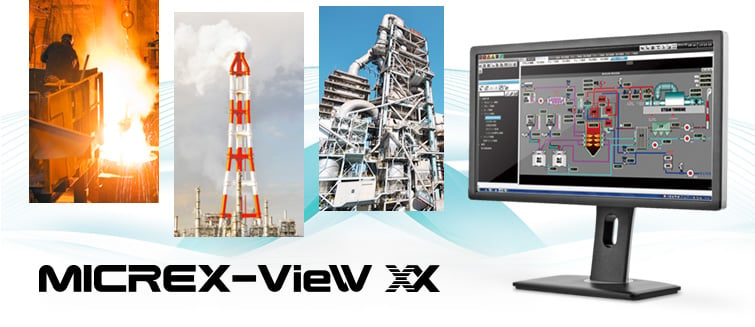 [view large image]
Fuji Micrex View XX offers high-speed control and large-capacity data processing. It is a highly reliable controller for various plants. This new monitoring and control system seamlessly connects from the control system to the field by using Fuji Electric's proprietary high-capacity high-speed control network and high-speed I/O network technology. The high reliability via network loop configuration reduces the risk of abnormal shutdown. It utilizes loop configuration to achieve redundancy for SX-Net (high-speed control network communication) and E-SX bus (high-speed I/O network communication). Achieves high speed (1 Gbps) and reliability, even during network disconnection, via ability to continue operation at a single location.
High-speed updating (max. 0.5 ms) of monitoring and control data of connected terminals (up to 126 units) is possible. It accelerates data updates on the network, regardless of the size of the facility, via increased transmission capacity. It is capable of high-speed (max. 0.5 ms) batch updating of monitoring and control data by utilizing all connected equipment (up to 126 units).
Multiplex synchronization control between multiple controllers can be managed. It realizes multi-axis synchronization control by synchronously controlling I/O stations under multiple different controllers on SX-Net.
Find out more
Solutions
Energy and Utilities
In energy and utility segments, increasing efficiency and cutting down waste are some of the key challenges many ...
Water and Waste Water
Most of the energy consumption in Water and Waste Water Treatment Plant (WTP) is electric power consumption it is ...
ALL SOLUTIONS
---
Services
Fuji Electric offers a wide range of design and consultation services related to the development of solutions in all of the industry sectors we operate in. Each project requires specific inputs and deep expertise to create the best possible solutions
Read More