POWER MOSFETS
Power Semiconductors
|
Power Semiconductors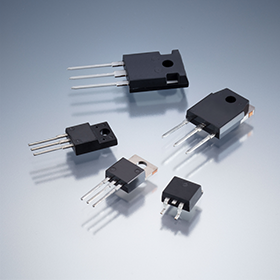 [view large image]
Fuji Electric offers a high performance and easy-to-use, easy-to-design planar type Power MOSFET achieved by the 2nd generation "Quasi-Plane-Junction" technology. It maintains both low power loss and noise, lower RDS (on) characteristics, more controllable switching dv/dt by gate resistance, smaller VGS ringing waveform during switching, narrow band of the gate threshold voltage, and high avalanche durability.
They find application in a wide variety of fields, including consumer and industrial equipment from inverters and NC/Servos to railroads, wind power generation, LED Lighting, automobiles and vehicle-mounted applications.
Low voltage MOSFETS offer low on-resistance and high gate resistance. Medium voltage MOFSETS contribute to the improvement of power supply efficiency with low on-resistance, low noise and low switching loss. High temperature MOSFETS achieve continuous operation at 1500 Centigrade through chip optimization, improved reliability and heat resistance of the package
The "Super J MOS®" Series using super-junction technology has been developed mainly for 600 V withstand voltage products.
Find out more
Solutions
Energy and Utilities
In energy and utility segments, increasing efficiency and cutting down waste are some of the key challenges many ...
Water and Waste Water
Most of the energy consumption in Water and Waste Water Treatment Plant (WTP) is electric power consumption it is ...
ALL SOLUTIONS
---
Services
Fuji Electric offers a wide range of design and consultation services related to the development of solutions in all of the industry sectors we operate in. Each project requires specific inputs and deep expertise to create the best possible solutions
Read More