Tellus & V-Server
Motion Control
|
HMI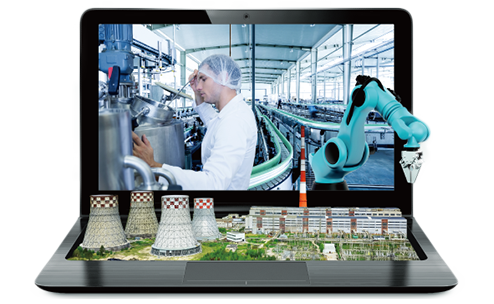 [view large image]
In Tellus HMI mode, manage on-site PLC data from the office PC via direct serial connection or Ethernet with PC peripheral equipment and Windows application software. V Server accesses PLC from the office PC via MONITOUCH through Ethernet to collect real-time data without additional programming. Together, this cost-saving software package enables you to monitor and operate your plant, anywhere, anytime. Onsite Monitouch data can be accessed and used for remote maintenance from your office PC. V-Server enables easy data collection and management of real-time onsite data. Quick recovery of production lines is possible with no extra cost and no loss of time. Real-time monitoring from remote locations and solving problems without visiting the site helps maintain uptime and production.
Find out more
Solutions
Energy and Utilities
In energy and utility segments, increasing efficiency and cutting down waste are some of the key challenges many ...
Water and Waste Water
Most of the energy consumption in Water and Waste Water Treatment Plant (WTP) is electric power consumption it is ...
ALL SOLUTIONS
---
Services
Fuji Electric offers a wide range of design and consultation services related to the development of solutions in all of the industry sectors we operate in. Each project requires specific inputs and deep expertise to create the best possible solutions
Read More