SPF Plus Motion Controller
Motion Control
|
PLC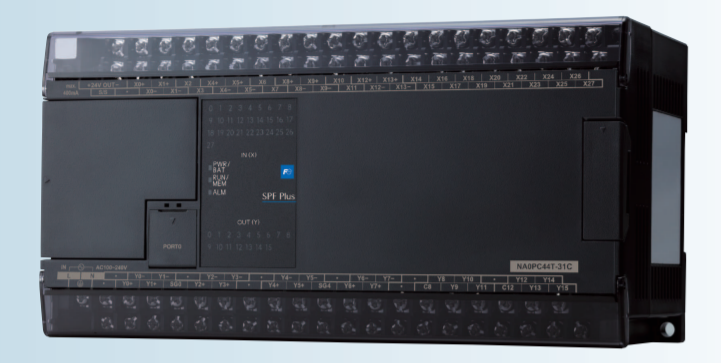 [view large image]
The units are equipped with a 4-axis pulse output functions with a capacity up to 200 kHz. The basic units are suitable for systems for general equipment control that rely on servo systems for positioning. It is a transistor output (sink) type. It comes standard with a calendar function. I/O control with a program capacity of up to 256 K steps and up to 65,536 points enables a suitable system configuration ranging from small through to large scale. 1 ms program scan and I/O refresh are possible. Function and performance distribution are possible in a multi-CPU system configuration with up to 8 CPUs. Both the hardware and software conform to the IEC61131 international standard for programmable controllers. Compatible with Ethernet, LonWorks, DeviceNet, PROFIBUS-DP, AS-i, and other diverse open networks. It provides an environment in which each support tool can be launched by simply clicking on a device in a network structure diagram or system configuration diagram on a PC. Allows setup of parameters of inverter and servo via SPH and enables remote data monitor operation, thereby eliminating troublesome wiring changes. With the aid of an upgraded data processing function, mass memory storage, and a built-in Ethernet function, the SPH is capable of monitoring the operation of production systems and devices and recording operation history and errors in addition to conventional FA control. It thus enables you to use the controller for wider applications of IT-based remote monitoring, maintenance support, and preventive maintenance. CPU and power supply redundancy can also be achieved in response to the growing demand for higher reliability.
Find out more
Solutions
Energy and Utilities
In energy and utility segments, increasing efficiency and cutting down waste are some of the key challenges many ...
Water and Waste Water
Most of the energy consumption in Water and Waste Water Treatment Plant (WTP) is electric power consumption it is ...
ALL SOLUTIONS
---
Services
Fuji Electric offers a wide range of design and consultation services related to the development of solutions in all of the industry sectors we operate in. Each project requires specific inputs and deep expertise to create the best possible solutions
Read More