ALPHA 7
Motion Control
|
Servo Systems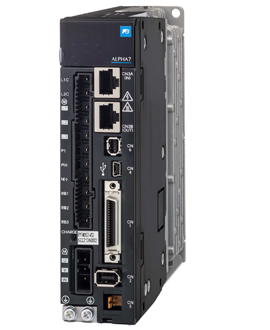 [view large image]
With industrial high-tech equipment developing and advancing rapidly, a highly responsive servo system provides reliable high precision performance. The supremely elaborated control functions turned Fuji Servo System ALPHA7 into one of the fastest and most precise servo systems on the drive control market. Fuji's proprietary control algorithm achieves a speed and frequency response at 3.2kHz, the highest level in the industry. This reduces the tact time, enabling high-speed control. In certain models, the maximum instantaneous torque of the servo motor is now as high as 350%. The encoder resolution is now as high as 24 bits. This provides much higher control precision than before. Standard equipment includes the STO function defined in the international standard IEC61800-5-2. In addition, the WSU-ST1 option adds support for SS1, SLS, SBC, and SSM. These safety functions can be easily configured with parameters. It supports a wide range of monitoring functions and delivers extreme safety at the same time.
Find out more
Solutions
Energy and Utilities
In energy and utility segments, increasing efficiency and cutting down waste are some of the key challenges many ...
Water and Waste Water
Most of the energy consumption in Water and Waste Water Treatment Plant (WTP) is electric power consumption it is ...
ALL SOLUTIONS
---
Services
Fuji Electric offers a wide range of design and consultation services related to the development of solutions in all of the industry sectors we operate in. Each project requires specific inputs and deep expertise to create the best possible solutions
Read More