Time Delay Relays
Electrical Distribution & Control
|
Electrical Distribution & Control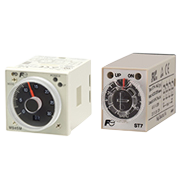 [view large image]
Time Delay Relays reduce workloads of the power supply in an industrial unit by having automatic restart as a staggered starting method in sequence during the time of instantaneous voltage interruption. Having an automatic restart at the time of voltage dips as a sequential starting method, this relay helps to reduce the workloads of the power supply. 3 types of operating modes such as instantaneous restart, timed restart, and anti-restart are available depending on the duration of the power failure. It is capable of reliable releasing of the maintained circuit, despite the residual voltage in the power supply circuit.
DIN48 sized analogue timer adopts sexagesimal conversion-free, direct-reading time-scale. The MS4S is a timer with four operation modes. The on-delay, flicker, one-shot or signal off-delay operation modes can be selected.
The ST7P is a highly efficient miniaturized on-delay timer. The maximum timing interval is 12 hours.
Find out more
Solutions
Energy and Utilities
In energy and utility segments, increasing efficiency and cutting down waste are some of the key challenges many ...
Water and Waste Water
Most of the energy consumption in Water and Waste Water Treatment Plant (WTP) is electric power consumption it is ...
ALL SOLUTIONS
---
Services
Fuji Electric offers a wide range of design and consultation services related to the development of solutions in all of the industry sectors we operate in. Each project requires specific inputs and deep expertise to create the best possible solutions
Read More