Pushbuttons, Selectors, Pilot Lights Command Switches
Electrical Distribution & Control
|
Electrical Distribution & Control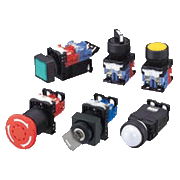 [view large image]
These pushbutton switches comply with various international standards, so they can be reliably used as emergency stop devices. Emergency stop pushbutton switches with IP2X -compliant terminals are also available.
Standard models feature illumination with high brightness LEDs. No adjusting of panel thickness is necessary. The button and lens can be mounted on a panel while the operator is engaged. Easy replacement of contact block and transformer as well as wiring from two directions is possible. The shortest among industrial pushbuttons. A terminal cover is provided, assuring safety and security. The Emergency Stop pushbuttons employ FUJI's original Trigger Action mechanism.
They are suitable for emergency stop and safety. They are mountable even on panel cutout 25mm diameter. AR22 and DR22 series of the ø22 Command Switches are approved by UL/CSA CCC and TÜV (EN standard).
The Command Series offer high brightness for more vivid colors. Newly added blue and pure white LEDs improve visibility. Transformer-free design for lighter structure and shorter depth (for 100-V and 200- V models). Possible to make easy color and voltage changes. UL/CSA-compliant models also available.
Find out more
Solutions
Energy and Utilities
In energy and utility segments, increasing efficiency and cutting down waste are some of the key challenges many ...
Water and Waste Water
Most of the energy consumption in Water and Waste Water Treatment Plant (WTP) is electric power consumption it is ...
ALL SOLUTIONS
---
Services
Fuji Electric offers a wide range of design and consultation services related to the development of solutions in all of the industry sectors we operate in. Each project requires specific inputs and deep expertise to create the best possible solutions
Read More