Industrial Control Relays
Electrical Distribution & Control
|
Electrical Distribution & Control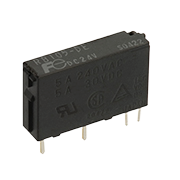 [view large image]
Compact card relays are for print board with low height and narrow width. The RB 104 and 105 relays are designed for printed circuit board use. These relays are extremely thin (5mm) and so, can be densely mounted on PC boards. As a result, PC board size and cost can be greatly reduced. Employing of bifurcated contacts ensure high contact reliability, allowing the RB104, 105 relays to be used in low-level circuits. Coil voltages are available in ranges from 4.5V to 24V DC. Compact design with low height and narrow width. 120mW highly sensitive model is available. They are UL, CSA and TÜV approved.
Low on power consumption, they can be operated by means of non-polarity magnets. SIL (Single-side In-Line lead) package allows the relays to be mounted easily on PC board. They are cleanable by immersion.
The RS series relays-and-terminal module consists of four or six plug-in relays (RB105, 1NO contact or RB011,1NC contact) and a terminal module with screw terminals. This relays-and-terminal module is ideal for interfacing electronic control devices (such as PLCs or photoelectric sensors) with output devices (such as solenoid valves and magnetic contactors). The use of ultra-small, high-sensitive relays has realized a compact size of 34mm wide and 69mm long, including screw terminals (RS4N type). Input terminals are located in the upper part and output terminals in the lower part of the module to separate them from each other, thereby making wiring easy. The terminal module uses RB105 or RB101 card relays. Built-in coil-surge suppression diodes and operation indicator LEDs simplify circuit design and maintenance.
Find out more
Solutions
Energy and Utilities
In energy and utility segments, increasing efficiency and cutting down waste are some of the key challenges many ...
Water and Waste Water
Most of the energy consumption in Water and Waste Water Treatment Plant (WTP) is electric power consumption it is ...
ALL SOLUTIONS
---
Services
Fuji Electric offers a wide range of design and consultation services related to the development of solutions in all of the industry sectors we operate in. Each project requires specific inputs and deep expertise to create the best possible solutions
Read More