FRENIC4400 Series Medium-to-large capacity DC link inverters
Drive and Control
|
Medium Voltage Drives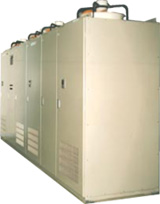 [view large image]
The Frenic 4400 Series is a Three-level PWM Inverter. Using three-level pulse-width modulation (PWM) control with output voltage at 800 V AC, a single unit rated capacity of 1200 kVA is achieved and a drastic reduction in the output current harmonics. An Insulated Gate Bipolar Transistor (IGBT) device configuration ensures faster control response, lower power loss and a simplified inverter control circuit. It allows precision control ranging from + or -0.01% to a torque control of + or -5%. Weak field control that constantly monitors magnetic flux makes it possible to ensure smooth high-speed operations. In addition, optional features such as observer control (impact drop compensation, shaft torsional vibration suppression), speed control autotuning, and plant control software (mechanical loss setting, torque forcing fixed position stop control) are available to be built in.
Find out more
Solutions
Energy and Utilities
In energy and utility segments, increasing efficiency and cutting down waste are some of the key challenges many ...
Water and Waste Water
Most of the energy consumption in Water and Waste Water Treatment Plant (WTP) is electric power consumption it is ...
ALL SOLUTIONS
---
Services
Fuji Electric offers a wide range of design and consultation services related to the development of solutions in all of the industry sectors we operate in. Each project requires specific inputs and deep expertise to create the best possible solutions
Read More