No plumbing required
Installable with no pipe cutting or flange processing. Installable without stopping production lines and no steam leakage concerns since plumbing is not required.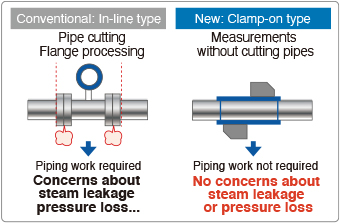 Less maintenance cost
No moving parts help to reduce regular maintenance costs such as cleaning.
Enables measurements at low flow rates
The ultrasonic flowmeter can meusure at low flow rate, even at flow rates of 0.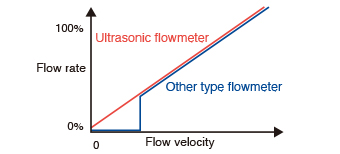 Convertible to mass flow rate
The measured volume flow measurement and density (fixed value) input can be converted to mass flow rate and output. Density correction can also be performed by measuring the pressure (4 to 20 mA DC) and temperature (with resistance bulb) of the saturated steam and inputting as external signal (AI).
No pressure loss
The ultrasonic sensors do not interfere with the steam flow.